Modern cat art for your wall, designed by real artists.
Cats have a special place in our hearts, and what better way to celebrate our feline friends than by commissioning a custom cat portrait?
Personalized portrait of your cat, made easy!
Enhance your modern home decor with Furiendship's custom pet portraits that add a unique and personalized touch to your gallery wall. These portraits are printed on high-quality gallery paper and come ready-to-hang, ensuring a hassle-free experience. For a more portable option, consider a personalized cat mug, which is both functional and adorable. Whatever your preference, there are many ways to honor your cats through art and everyday items. 
How to create your custom cat portrait or gift.
Creating custom art and accessories featuring your beloved pets has never been easier. Simply follow these four easy steps:
1. Select your desired product.
Whether it be a framed cat art print, personalized phone case, or a heartwarming mug from your favorite photo.
2. Upload a photo of your pet to the platform.
This photo will serve as a reference for the artist or designer to create a unique and personalized piece. You can choose a photo that captures your pet's personality, or select one that holds a special memory.
3. Place your order and complete the payment process.
In 1-3 days you will receive an artwork preview, which you can approve or request for revisions within 48 hours.
4. Sit back and wait for your personalized product to arrive at your doorstep.
It's that simple! Whether you want to display a beautiful custom art piece or carry your pet with you wherever you go, creating custom products featuring your furry friend has never been more accessible.
Custom cat portraits are a unique and personal way to immortalize your cat's personality and character. They are a beautiful way to capture their unique features, expressions, and quirks. 
we made it simple
In just 4 easy steps...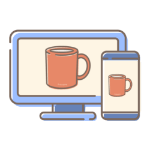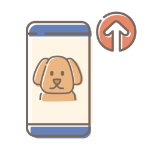 Upload Your Photo
and customize your product
Place your order
receive artwork preview
Sit back and wait!
your order is printed and shipped!
We make modern gifts, for modern pet owners